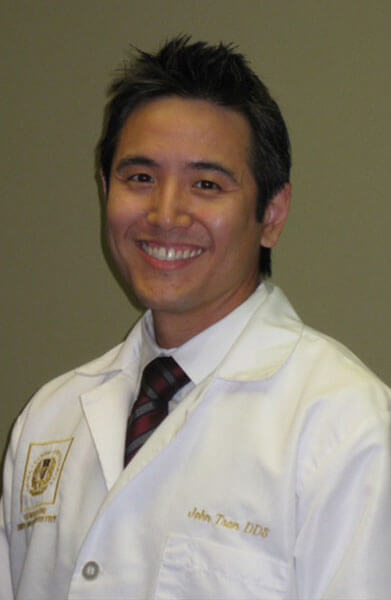 Dr. John Tran received his dental training from the University of Maryland – Baltimore, College of Dental Surgery after earning a bachelor's degree in Zoology from the University of Maryland at College Park. Upon completion of his dental degree, Dr. Tran continued his specialty post-graduate studies in prosthodontics at the University of Maryland. After three extra years of training in aesthetic management, treatment of cancer/trauma patients and full-mouth reconstruction, Dr. Tran received his Certificate in Prosthodontics while also obtaining a master's degree in biomedical sciences.
Following his residency at Maryland, Dr. Tran went to Loma Linda University's Center for Implant Dentistry Fellowship program in Southern California. During Dr. Tran's surgical and implant fellowship, he performed implant placements, implant restorations, sinus and bone grafts, along with soft and hard tissue management. He is a member of the American College of Prosthodontists, the American Academy of Implant Dentistry and is also an Associate Fellow in the AAID. Dr. Tran has been awarded with the ACP's Prosthodontics Scholarship and has been recognized with Teledyne Water Pik's "The Best of the Best" in Prosthodontics Award and the Harry B. Schwartz Award in Excellence in Fixed Prosthodontics.
Dr. Tran has also been involved with various volunteer organizations such as Hope for Tomorrow and Operation Smile medical/dental missions and currently maintains a private practice limited to prosthodontics and implant dentistry.