Dental Implants in Kensington, MD
---
Kensington Natural Smiles provides dental implants in Kensington, MD. Call 301-933-3903 to learn more and schedule your appointment.
Dental implants have become the gold standard to replace missing or failing teeth, thanks to their stability, durability, and strength. Dental implants can help to stabilize bone loss by replacing tooth roots, and they restore nearly all of your original bite strength.
At Kensington Natural Smiles, we work hand in hand with a trusted oral surgeon and implantologist to ensure that you receive the best possible care throughout all stages of your dental implant procedure. We also take the time to sit down with you to discuss all of your options, as we believe strongly in patient empowerment.
You might have heard that only those who are in excellent physical condition can get dental implants, but this is not actually the case. If you have any underlying medical conditions such as diabetes or heart disease, you will want to work with your doctor to get those tightly under control before any surgical procedure including implant placement. Likewise, if you have any existing oral health concerns, we will need to address those before we begin. Finally, if you suffer from extensive jawbone loss, you might need bone grafting first. Within those constraints, however, virtually anyone can be a candidate for dental implants.
---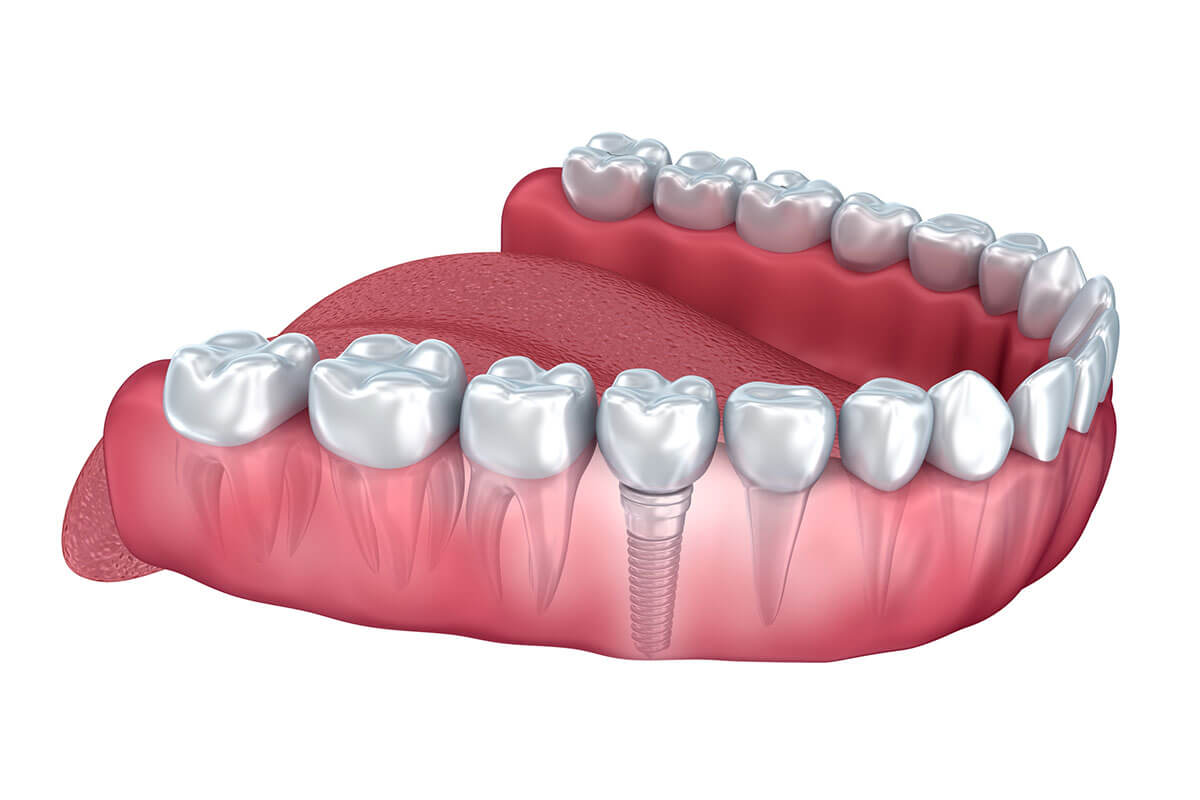 ---
If you are missing just one tooth, a single dental implant topped with a crown is the right solution. We can also place single tooth dental implants throughout the mouth for those who are missing multiple scattered teeth. A dental implant is a tiny sliver of bio-compatible titanium that is inserted into the jawbone and topped with a cover screw or a healing cap. After the implant fuses with the bone, we will remove the screw or cap and attach a customized crown to it with a piece known as an abutment.
---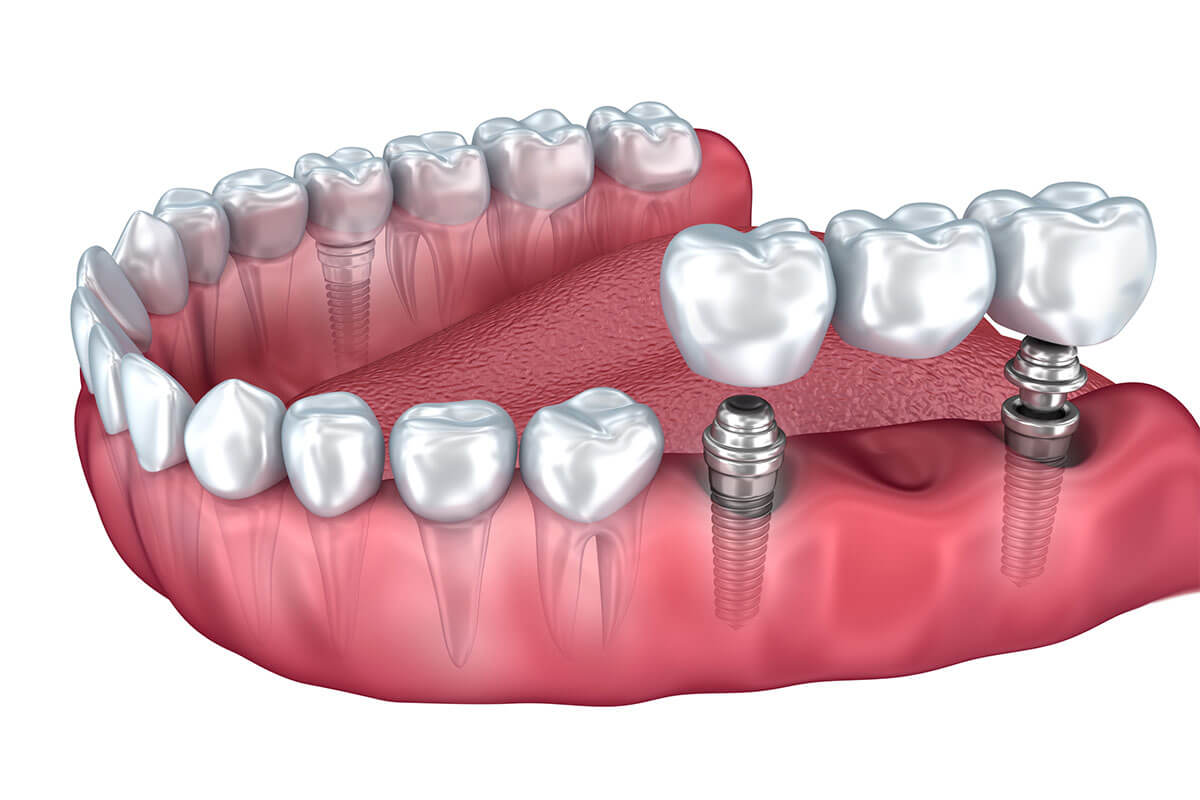 ---
If you are missing three or more teeth in a row, we can place an implant supported bridge. A traditional bridge relies on the natural teeth at either end, requiring us to sacrifice healthy tooth structure. An implant supported bridge is secured to dental implants at each end, creating a strong and highly aesthetic restoration that does not disturb the adjacent teeth.
---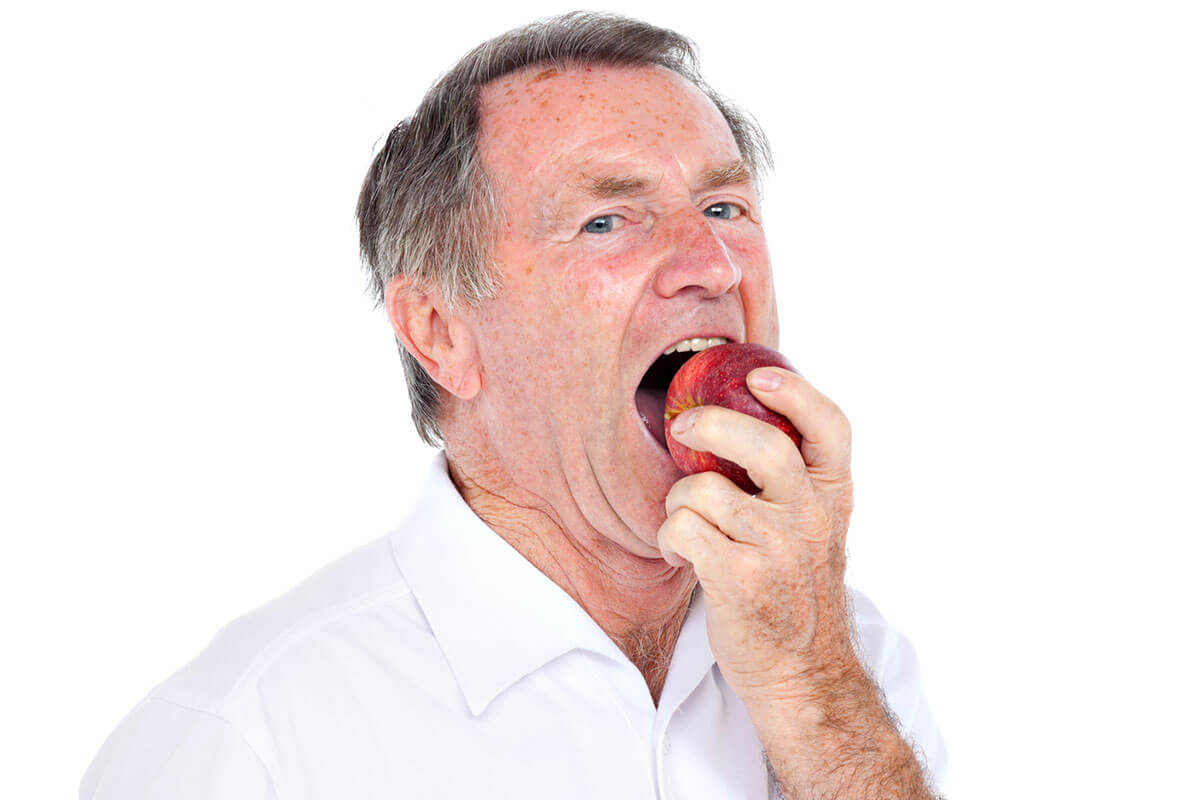 ---
Just two implants can support and stabilize a "snap-on" removable denture, while a handful of implants can secure a full arch of teeth that never leave your mouth. Both solutions solve the problems of slipping and pinching that are common with traditional dentures. They also restore nearly all of your bite strength, and they can reverse jawbone loss.
---
---
Full Arch with Only Four Implants
---
If you are missing all of your teeth on the upper or lower arch, a full arch with four implants is a true game-changer. Using just four immediate-load dental implants, we can secure a full, fixed arch of teeth on the same day as your extractions.
---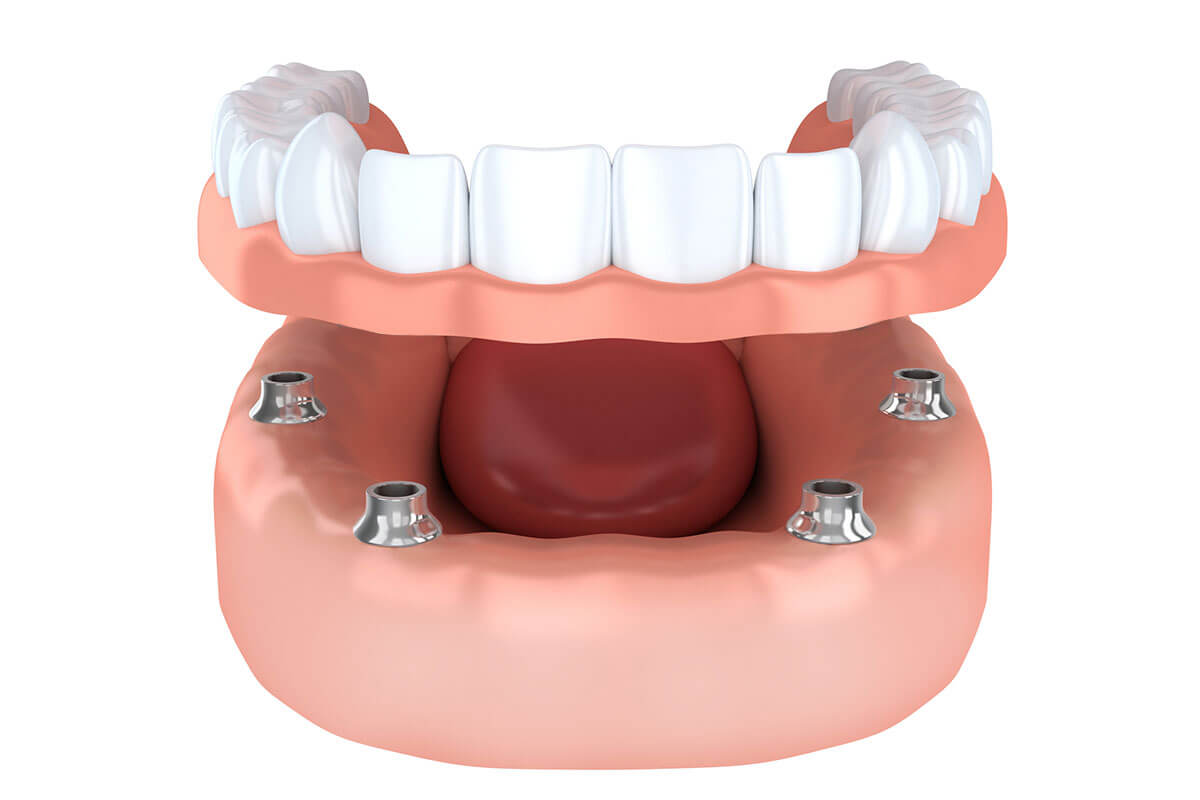 ---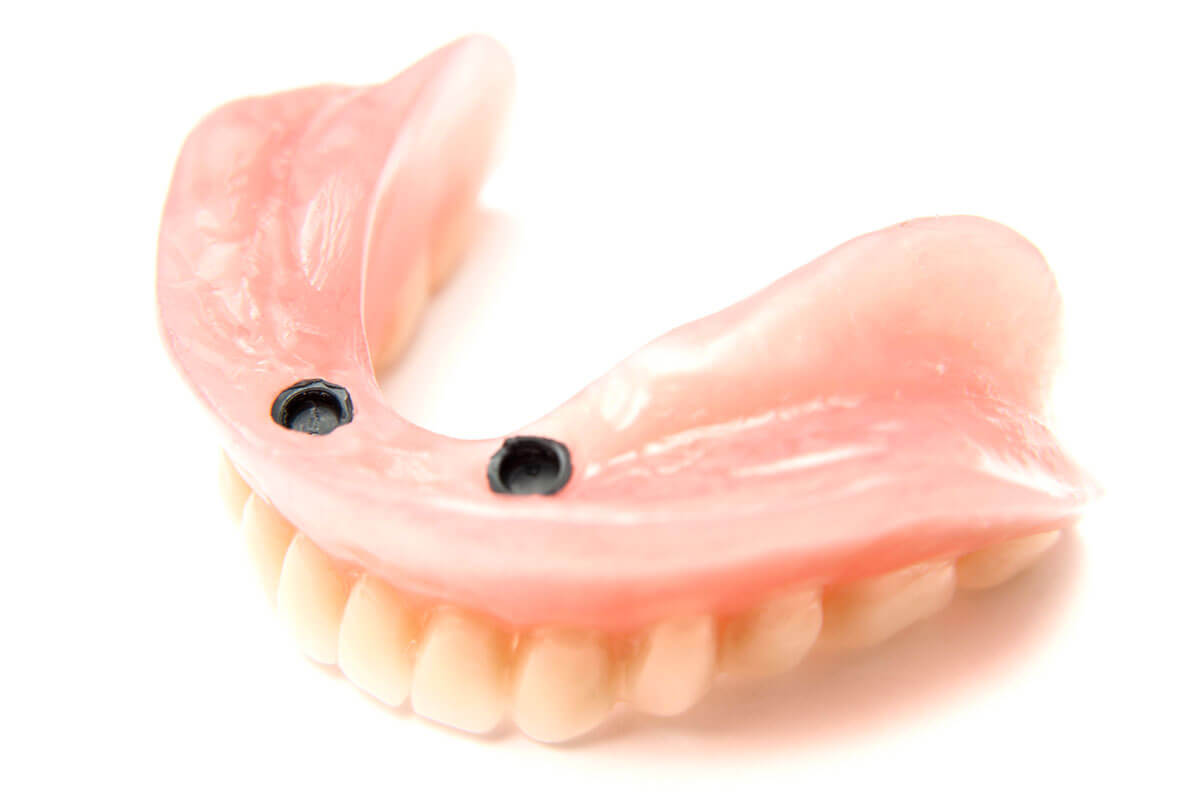 ---
Frequently Asked Questions
---
What exactly is a dental implant?
---
Dental implants help restore your smile by replacing lost teeth. The post is surgically implanted into the jaw bone and acts as an artificial root. A crown, bridge, or denture is then screwed into the implant to create artificial teeth. These implants help to stabilize bone loss while providing you with your original bite strength.
You can move forward in life as if you have your real teeth!
---
Are dental implants safe to get?
---
Yes! Dental implants have been used by dentists for many years – and the technology behind them keeps getting better and better. Today, dental implants are one of the safest, most reliable ways to replace a missing tooth — or many teeth.
---
I have a missing tooth. Does it have to be replaced?
---
While it may seem harmless to have an empty space where your tooth once was, it is not the best choice. There are many reasons why you should not leave an empty space in your mouth. For instance, it can affect the way you speak, make it more difficult to chew, cause bone loss around the missing tooth, and even give your other teeth space to move and shift.
---
Does it hurt to get dental implants?
---
The goal of your dental team is to have you go through the entire dental implant process without pain or discomfort. Depending on the patient and situation, full sedation, partial sedation, or a numbing anesthetic may be used.
---
How long does it take to get dental implants?
---
The process of getting a dental implant does not generally happen in one visit. In fact, there are many things that need to be taken into consideration. It could take at least two visits over a few months to complete.
Before you start, your dentist will consider your dental health, the tooth (or teeth) being replaced, whether you will need any extractions before you get the implant and if a bone graft is needed. The time needed for procedures and healing will then determine the length of the process.
Your dentist should be able to give you a rough estimate of how long it will take before you begin the implant process.
---
Can I replace more than one tooth with a dental implant?
---
Absolutely. Dental implants can be used to replace one tooth, multiple teeth, or your entire mouth of teeth. Some even use dental implants that act as a support for bridges or dentures.
---
How do I care for my dental implants after I get them?
---
You care for dental implants much like you care for your teeth. This includes daily brushing and flossing and visiting your dentist regularly for cleanings and checkups. Don't assume that your teeth are invincible just because they are not "real." While they may never decay, the surrounding gum tissues can get infected or irritated if not cared for properly.
---
How long do dental implants last?
---
Dental implants that you properly care for will last a lifetime. Be sure to practice good oral hygiene with brushing and flossing as well as having regular checkups with your dentist. The crowns used with your dental implants will typically last 10-15 years on average, but longer with excellent care.
---
I am interested in dental implants, but I have more questions. Who can I talk to?
---
Contact Kensington Natural Smiles today at 301-933-3903 to schedule your appointment.