Invisalign in Kensington, MD
---
Kensington Natural Smiles provides Invisalign services in Kensington, MD. Call 301-933-3903 to learn more and schedule your appointment.
"The clear alternative to braces," Invisalign is a thoroughly modern way to straighten your teeth. The system uses a series of clear, smooth, medical grade aligners to gently shift teeth into the correct position.
---
What Is Invisalign?
---
While traditional braces rely on metal brackets and wires, Invisalign uses custom-crafted, removable aligners. You will wear each set for 20-22 hours per day for two weeks, or as instructed, and then change to the next set at home. We will see you once every four to six weeks to monitor your progress.
---
Invisalign starts with 3-D digital modeling of your existing smile. We will morph the image to show you what to expect from each stage of treatment, including the final results. When you are happy with the model, we will use it to create your individualized series of aligners.
To view your new smile, click here and follow the easy instructions. 
---
Scan the QR Code and see your new Invisalign smile in just seconds!
---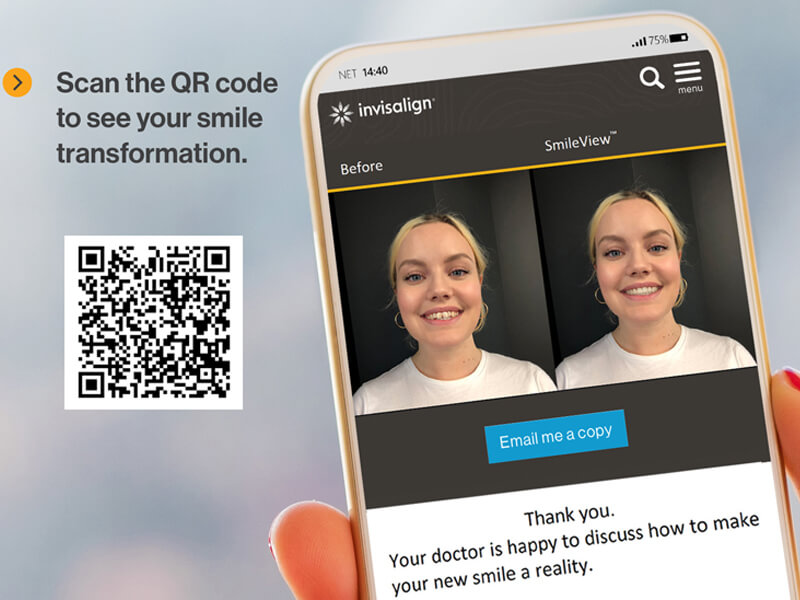 ---
Aesthetics and Comfort
---
Unfortunately, first impressions count. No one wants to flash a mouthful of metal at an important job interview, first date, or client meeting. Invisalign is nearly invisible aligners allow you to smile, talk, and laugh with confidence.
The wires and metal brackets on traditional braces can cut, poke, or scrape the delicate soft tissues of the mouth, and adjustments are often quite painful. Invisalign is less likely to irritate the gum and they shift your teeth gently without excessive force.
---
Daily Life
---
Traditional braces are under your dentist's control. We will place them, adjust them, and ultimately remove them. You will need an emergency visit for any issues that might arise, such as a popped wire or a loose bracket. You will not be able to eat certain foods including popcorn and sticky candy, and you must learn to care for your teeth in a whole new way.
Invisalign puts you in control. We will place attachments on your teeth and teach you how to care for your aligners, but your treatment is otherwise in your hands. You can remove your aligners for oral hygiene and to eat your favorite foods. You will change aligners at home, and you will see us only to monitor your progress.
---
Cost Considerations
---
At one time, Invisalign was significantly costlier than braces, but this is no longer always the case. Upgrades such as colored metal, as well as the costs of all adjustments and emergency visits, increase the base price of braces. Invisalign uses a fully transparent pricing model that includes all dentist appointments.
Dental insurance is complicated, and different plans offer widely varying benefits, even with the same insurance company. Some plans do not cover orthodontic treatments, or cover them only for kids under age 18. Some cover braces but not Invisalign, and some cover both. Our experienced office staff will help you understand your insurance coverage and out of pocket costs for both options.
---
Frequently Asked Questions
---
What are the benefits of Invisalign over other options?
---
Invisalign aligners come with a lot of benefits that you won't find with others, such as traditional metal braces. Not only do they bring an overall greater sense of convenience, but they are also:
Comfortable. You won't find any wires or brackets scraping up the inside of your mouth -- and no painful wire-tightening visits.
Practically invisible. Hence, their name, Invisalign aligners are the discreet way to straighten your teeth.
Removable. Whether it is to enjoy your favorite food or to take that all-important photo, you can remove your Invisalign aligners whenever you need to. Even to brush and floss your teeth like normal!
---
Do Invisalign aligners hurt?
---
You are physically moving your teeth - so any treatment option you have to do so is going to bring about a certain degree of discomfort. Most people who use Invisalign will admit that there is a little bit of pressure and discomfort for the first couple of days. This tends to go away rather quickly.
As you progress through treatment you will get a new set of aligners every few weeks in order to keep your progress moving. As you do, those new aligners will again feel tight, leaving you with slight pressure and discomfort. This will go away within a couple of days.
---
How long will I have to wear Invisalign aligners?
---
How long you will have to wear your Invisalign aligners will depend on how complex your orthodontic care is. For instance, those with greater misaligned teeth or bites may need to wear the aligners longer than someone who only needs minor straightening. However, on average, most Invisalign treatment plans last about 1 year.
Your dentist should be able to discuss your treatment plan with you and give you an idea of how long you could expect to wear the aligners.
---
Can I eat and drink while wearing Invisalign aligners?
---
It is not recommended that you eat while wearing your Invisalign aligners as chewing can, in fact, damage them. While you may drink while wearing your aligners, it is preferred that you use a straw or remove them altogether when you do.
---
Do I have to wear my Invisalign aligners during the day? Or can I just wear them when I sleep?
---
The less you wear your aligners, the longer your treatment is going to take. You should be wearing yours at least 20 hours per day.
---
I heard wearing Invisalign aligners will disrupt my speech. Is this true?
---
Many people discover that they have a lisp when they first begin their Invisalign treatment. The more you wear them, the lisp will begin to disappear. This usually is only bothersome or noticeable for the first couple of days.
---
Is Invisalign the best choice for me?
---
Knowing whether or not Invisalign aligners are the best choice for you is something that you will need to discuss with your dentist. A review of your records and an examination of your teeth should be enough to uncover whether Invisalign is an option for you -- or if there is a better, more suitable choice.
---